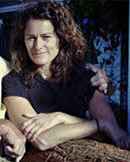 Wildlife Carvings: Wendy Lichtensteiger

I grew up drawing cartoon characters and making comic books. As much as I enjoyed being creative, I never thought I would make a career for myself as an artist. At Arizona State University I studied all facets of art including, drawing, painting, metal sculpture, ceramics, and art history. Oddly enough I never touched a piece of wood.

My father Lance was a carpenter and has been carving wood ever since I can remember. When I would visit, he would be in his shop carving. At the time I did not understand or appreciate what he was doing. I remember him showing me all the different decoys he made and telling me what kind of bird it was. My most vivid memory is the smell of fresh cut wood in his shop, car, house, everywhere.

Fast forward about 17 years, I am 22 years old, fresh out of college with a degree in Studio Art. A gallery on the Outer Banks of North Carolina, which had been selling my fathers carvings for nearly 20 years was for sale, and my siblings and I wanted to be in business for ourselves. So my brother Lance, my sister Amy, her now husband Brian, and I all moved in from our respected sections of the country and started running a business.

We ran the gallery for almost 3 years and realized we were still independently broke. The gallery was a success, but not profitable enough to support the three of us. My brother was the first to go. He moved to Vermont to start a construction business. My sister Amy was great at running the gallery, had gotten married and settled into life in North Carolina, so was the natural choice to stay and expand the gallery to what it still is today. And that left me. Of course I always admired my father's carvings, and with him getting up there in age, I began to think about the last one he would carve. It broke my heart. I did not want there to be a last one. So in 2000 I moved back to New Jersey and began what would be 6 years of apprenticeship in my Dad's garage.

I suppose if you asked my father which of his children he would have imagined learning this trade from him he would have chosen his son. Not so much. My brother has carved, and still does on some level, but I fell in love with it and couldn't stop if I tried. A woman in her near thirties, and a man in his sixties, not to mention father and daughter, working in a garage together make for some interesting work days. We learned a lot about each other, learned how to deal with each other, and made some great things. Those were some of the most important years of my life, and I am forever grateful to my father who gave me this great gift.

In 2005 I moved to Vermont, and of course continue to carve. My Father is still carving as well, and I think at this point he can't stop, and I don't blame him. I can't imagine doing anything else. Picking the right log, the act of cutting and shaping, beginning to see the end result, and the endless subject matter, is invigorating and addictive. We talk on the phone daily, and occasionally work together when I visit New Jersey, or him Vermont. We'll always be each others biggest fans, and best of friends.

A note about the wood…...

Before succumbing to blight in the early 20th Century, American Chestnut was considered the "queen" of our eastern forests. After dying many of the trees left standing were infested with small borers, who chewed pin sized holes into the wood, hence the term "wormy". Cracks and checks are a natural characteristic of the wood. It is recycled from logs cabins, barns, and bridges.

I have an immense love and respect for nature and animals.
I love and respect people as well.
I believe the lessons we can learn from nature, and animal
behavior are beautiful, simple, and endless.
I believe in communication and truth.
I believe in helping each other, not hurting.
I believe in happiness and humor.
I believe a purpose for every person and thing.

I love the act of carving wood, and working with my hands.
I love reclaiming what is thought to be waste, and creating something to be appreciated.
I love to observe my surroundings. I love taking photographs, listening to music, speaking with people, and translating these experiences.

I had a childhood and an education. I will be happy to tell you all about it,
perhaps over a cup of coffee.
I do love coffee.

I am fortunate to be able to combine my beliefs and loves, to do what I love,
and love what I do.