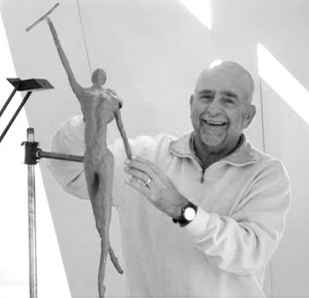 Don Wilks
"I have always been intrigued by the beauty, flow and elasticity of the human body. To see a figure bend, stretch, pull and twist is a true wonder of nature that has always stimulated my imagination."

To make the transition from imagination to reality, Wilks began to study with Peter Pacquette, who taught him the techniques of working with clay and metal, as well as welding, soldering and shaping rigid materials, the basic skills necessary to create a work. He was then privileged to come under the tutelage of Frank Eliscu, an internationally known sculptor who has many important municipal, commercial and private commissions to his credit, including the Heisman Trophy. Wilks also studied at the Museum of Fine Arts School in Boston, MA and is a member of the National Sculpture Society.

"For me, the action and interaction of the body is the primary force that I try to convey. To achieve this I am continually working on my techniques and knowledge of the anatomy, body motion and fluidity."

Currently Wilks is working under the watchful eye and inspirational guidance of the New England artist Pablo Eduardo. Each Piece is cast in bronze at the Bronzart Foundry in Sarasota, FL. The edition limits are between seven and twelve pieces to assure that detail of each piece is properly rendered.