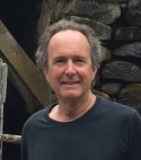 Scott Terry

I consider myself to be a full time painter, although I do take several months off in the summer to supplement my income through commercial fishing. This is also a big help in my painting as I am out every day at sunrise and sunset and really get to soak up the colors that figure so prominently in my paintings. I spend the rest of the year painting, often seven days a week.

I knew from a very early age that my life would be devoted to art. After a year of study at Drew University with the goal of medical illustration (when you're young everyone always tells you "you gotta make a living"!) After a brief, formal education I traveled the world for several years. I saw how big of a role art had in other cultures and returned with renewed conviction that art was my life. There have been a lot of twists and turns along the way, but I received a formal education in painting at the Swain School of Design in New Bedford and have been painting full time ever since.

I showed for several years in the 1980's at the Field Gallery. In 1989 The Granary Gallery invited me to show and I have been there ever since. Early on, I tried showing at other galleries on the Cape and in New York and California. I quickly realized that it is too easy to spread yourself too thin and make commitments you can't fulfill. I also realized that the clientele on the Vineyard were New York and California and I was better served by devoting all my energies towards one really good gallery.

I chose to live on the Vineyard in the late 70's for the lifestyle and the fishing opportunities. Painting for me has always been about the way light strikes objects and creates shadows. The subject has never been of great importance to me because light strikes a rock on Lambert's Cove beach the same way it strikes a building in Boston. I live on the Vineyard and I sell my paintings here, so I paint mostly Vineyard subjects ("You gotta make a living.") It's not too much bother, as it is, after all, a pretty nice place.

Painting is, and should be, an ongoing struggle. There is no room for complacency or self-satisfaction. What you learn in the last painting should be carried into the next. At times it can be torture and occasionally it can be uplifting. For me there is no other choice.