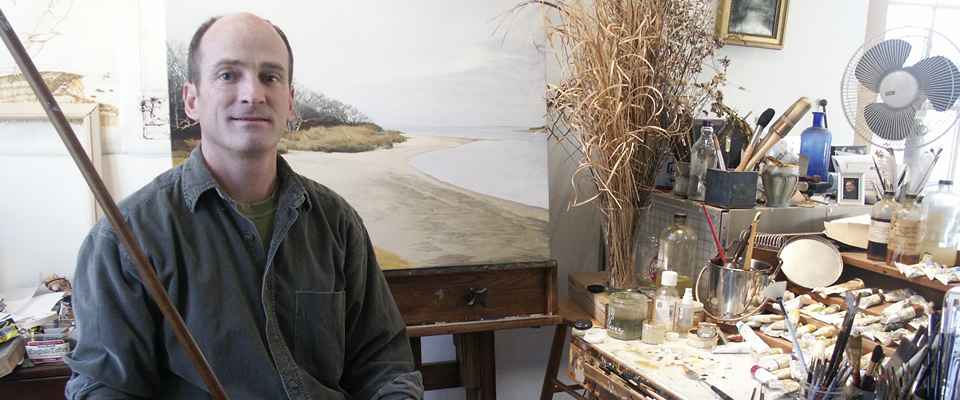 Andrew Gordon Moore operates a studio in Harthaven, Oak Bluffs, on the Massachusetts island of Martha's Vineyard. He is a realist painter, working in watercolor, egg tempera and oil. As a hunter, fisherman, sailor, and self-taught naturalist, the world outdoors is his source. Andrew's work reveals this deep involvement in and appreciation of island subjects studied through every season. Occasionally, the artist journeys to coastal Maine and other locations adding these images to his predominantly Martha's Vineyard-based work.
While Andrew Moore encounters the subjects of his paintings during excursions on the sea and in the field, he paints the final work in a controlled, slowly-layered manner in the studio. Here, he surrounds himself with objects from the field – rocks, grass, dried plants, fish, birds – and numerous drawings and photo- graphs. Andrew then builds the idea from a small sketch into the intricate final painting, blending studied detail into a strong composition of color, tone, pattern and form.
Andrew's work is owned by collectors, mostly from New England, often with ties to Martha's Vineyard. While he has shown on Newbury Street in Boston, at various Vineyard galleries, and had a one man show at the New Britain Museum of American Art, he prefers the direct contact offered by his private gallery. Recently, he appeared in American Artist Magazine, June 1998, and New England/ New Talent, an exhibit of seventeen artists chosen from a field of five hundred at the Fitchburg Art Museum.
Exhibitions
One Man:
The Granary Gallery, West Tisbury, MA (2015)
A.G. Moore Gallery,Harthaven, MA (1990, 1991, 1993, 1995, 1997, 1999, 2003, 2006, 2009, 2012)
New Britain Museum of American Art, New Britain, CT (11/6/93-1/9/94)
Retrospective, Nesto Gallery, Milton Academy (1988, 2000)
The Granary Gallery at the Red Barn Emporium, West Tisbury, MA (1987-88)
The Field Gallery, West Tisbury, MA (1986)
The Old Sculpin Gallery, Edgartown, MA (1982, 83, 84, 85)
 
Group Shows:
Moore and Moore and Moore, Martha's Vineyard Museum., Edgartown, MA (2014)
Francesca Anderson Gallery, Newbury St., Boston (1986-87)
The Main St. Gallery, Nantucket, MA (1986)
Center for Maine Contemporary Art, Biennial Juried Exhibition, Rockport, Me. (1996, 1997, 2000, 2004)
Fitchburg Art Museum, New England New Talent (1998)
The Drawing Show, Boston Center for the Arts (2000)
 
Publications:
Vineyard Gazette, September 2014, Celebrating Art as the Moore Family Business
Martha's Vineyard Arts & Ideas, September 2014. Moore, Moore, Moore and Goff
Vineyard Gazette, August 2013. Artist Captures Spirit of Island.
Martha's Vineyard Times, August 2011, Island Influence on Landscape Artists
Vineyard Style Magazine, Fall 2007, Creating a Place, The Methodical and Evocative Paintings of Andrew Moore
Martha's Vineyard Magazine, July 2003,
American Artist Magazine, The Crossover Between Watercolor, Egg Tempera, and Oil, June 1998
Education and Honors
Artist Grant- Earth Watch funded trip to Brazilian Rain forest, 1993
University of Virginia, School of Architecture Charlottesville, Virginia
Bachelor of Architecture, 1985
Alpha Rho Chi Medal Leadership, Merit & Service
Dean Close School, Cheltenham, England
Exchange Student, 1981
Received A-Level degree in Art
Milton Academy, Milton, Massachusetts
Wigglesworth Art Prize, 1979 and 1980
Statement of Intent
A man lives two days with each one. The first is of the body. Here, man explores his world through his senses. The second day is of the mind, where man turns physical experience to spiritual understanding and growth. My paintings attempt the whole day- the concrete and the abstract.
I am an New England artist. Important to me is our history of painters whose lives and work are inseparable. As a fisherman, sailor, and self taught naturalist, I am involved in the changes of season, time and weather- and the resulting activities of man and nature in coastal New England. How can an artist not live what he paints? If he does not, his work contains no life.
I am also a representational painter. For me, this tie to the real is not a crutch. Any successful painting must have an abstract strength: a clear understanding of composition, form, color and the many other tools of design. In addition, though, representational painting explores the concrete, the world underfoot. Understanding this world is complex. Stare at a small area of shoreline and consider the materials, textures, colors, shapes, and patterns. Then consider such effects as light, time, season, weather, and what you were thinking about as you stood there. The impression changes. What is the constant?
The constant is the whole day, a combination of the abstract and the concrete. This is what I attempt to paint.