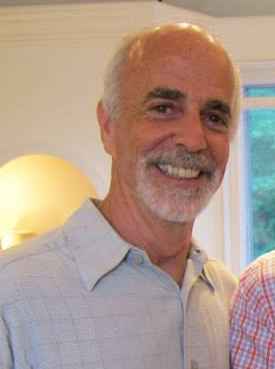 Ross Coppelman is the product of a Harvard education, the restless 1970's, and an active imagination. "I graduated with a degree in English and Psychology," he explains, "but I didn't want to teach or write or deal with mental casualties. I wanted to do manual labor, so I thought I would come down to the Cape and do a craft. I had no art background, no intention, no romantic notions about becoming an artist."
Coppelman went to work for Cape jeweler Bernie Kelly producing the silver rings that were the hallmark of '70s chic. He liked it. It was fun and, as a major attraction, he could learn it without going to school. He started doing his own designs, took some things up to Boston, got some big orders and, as he recalls, he was "in business."
He now runs a traditional business from an attractive studio/showroom at Sunflower Marketplace in Yarmouthport. His jewelry has evolved from the standard silver of the '70s to dazzling color combinations of stones nested in intricate 22K gold textured designs. Admired and respected by his peers, he recently received an automatic three-year acceptance into the prestigious Winter Market craft show in Baltimore.
Coppelman says, "I use traditional materials in a nontraditional way. My designs travel in time between Egypt and the year 2000. People know it's not exactly contemporary jewelry. What comes out is a mystery to me. I create a space in my workshop and in my head and let the ideas come through. I can be egotistical and say I'm good, or I can say I have very little to do with the ideas and what I produce. I design by instinct, without a plan in mind. The shape and placement just depend on my mood. Everyone designs differently but my design work is very much start at 'x' and see where it goes."
In the last 10 years, Coppelman has been profoundly influenced by the jewelry of antiquity, particularly the Egyptian, Roman, Aztec, and Byzantine cultures. He says, "There's a weight to those pieces, more emotional than physical, that hits me harder than anything contemporary. What appeals to me most is the ancient imagery, the iconography. In a way, it's very resonant. It's fun to make up."
To achieve an ancient effect, Coppelman uses many recognizable ancient symbols. Between 30 to 40% of his pieces are one-of-a-kind. The rest are limited productions. Coppelman revels in the joys of his business. He finds the work both spiritually uplifting and rewarding.