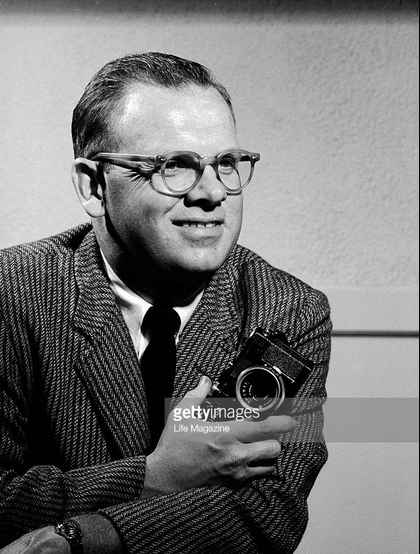 ARTHUR RICKERBY
p h o t o g r a p h e r

Born in New York City in 1921, Arthur Rickerby discovered photography when he joined the camera club at DeWitt Clinton High School in the Bronx, NY. He brought his new-found enthusiasm with him to Duke University where he worked his way through college taking pictures. His photographs of Duke Athletic events won him a job with Acme Newspictures (now United Press International) upon graduation, and he was assigned to the Navy photographic unit headed by Captain Edward Steichen during World War II. Some of Rickerby's most well-known photographs were taken during his tour in the Asian Pacific where he recorded the invasion of Iwo Jima, won a Naval Citation for his depiction of the plight of civilians on Okinawa, produced a major documentary on prisoners of war in a Guam internment camp, and photographed the signing of the surrender aboard the USS Missouri.
When the war ended, Rickerby was recruited back to New York to work for Acme Photos. He covered a wide range of assignments and, in his lifetime, was the only photographer to twice win a National Headliners Medal. He marked the middle of his career by capturing one of the most famous sports images of all time: Yankee Don Larson pitching the only perfect game in World Series history.
In the late 1950's, Rickerby left United Press International to become a freelance photographer. The following years his work appeared in Collier's, Coronet, LIFE, Look, Pageant, Parade, Redbook, Saturday Evening Post, Sport, Sports Illustrated, and the Sunday magazines of many major daily newspapers. In 1960 LIFE offered Rickerby a staff position. To work exclusively for LIFE had long been his dream and he was sent to cover the Kennedy White House upon his acceptance. Rickerby was in the motorcade in Dallas the day President Kennedy was assassinated and his photographs from that day are images almost every American living at that time will remember. Later he traveled extensively in Asia, for a story on rice as the world's most important nutrient. His photographs are among those included in the international touring photography exhibition entitled, "LIFE"; The Sixties," sponsored by LIFE MAGAZINE and the International Center of Photography.
Always on the cutting edge of photo technology, Rickerby championed the use of the smaller, more versatile 35mm camera at a time when the bulky Speed Graphic was standard equipment for news photographers. He was nominated for a Pulitzer Prize in 1957 for his leadership in introducing the 35mm camera to the national press corps. Rickerby was also an early advocate of the zoom lens, with which he gave sports photography a new look, and was one of the first to adopt the motor-driven camera. These technical advancements helped make him best known for his color essays on football, hockey, auto racing and a variety of other sports.